16 Jun

Two artists, each age 90

Podcast: Play in new window | Download
Subscribe: Android | Email | RSS
Georgia Doubler was wearing an abstract shirt as she painted in the mid-day sun at the La Posada Arts Festival in Green Valley, Arizona.  It was only later, when I looked at the photo I snapped, that I realized her smock said, "Art" and was covered with the names of famous artists.  Georgia may not herself be a household name, but she's striking for her life-long commitment to her craft.  She just turned 90, and purchased a number of canvasses for herself as a birthday gift.  "How's that for optimism," she joked, as she continued to work while we talked.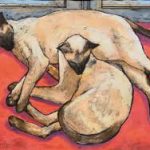 A mother of four, Georgia earned her MFA at age 67.  She'd been making art for decades before that, and loves to teach as well.  Having kids, she said, didn't deter her from her work; she'd just sit them down next to her with art materials.
Just up the road from Green Valley in Tucson, Marcie Sutland is also 90 and still working on her craft.  She's taken a different path. For years, after relocating with her parents and sister from Trenton, she worked as an illustrator.  Most of her work involved ads in newspapers for local department stores.
She was too short to be a fashion model, her true aspiration, she said, so she turned her eye on drawing beautiful clothing.
To relax and escape, now that she lives in an assisted living home after the death of her beloved sister, with whom she shared a home for decades, she finds herself sketching.  Her mind, she says, still feels 18, but her body doesn't quite keep up.
Meeting two women who are passionate about creating art is inspirational at any age.  That these two women are 90, and still active, reminds me there's no excuse not to engage in your passion. They embody Gracefully.