10 Aug

Elderly, gay, single…and no longer alone

Podcast: Play in new window | Download
Subscribe: Android | Email | RSS
Jim Crowley remembers the old days, a time long ago, when he married a woman and had a family to conceal the fact that he was gay.  A time when, as a schoolteacher, he feared that people would learn his sexuality because of the inevitable discrimination that might follow.  There was no such acronym as "LGBTQ." The word "gay" was a catch-all for anyone who wasn't heterosexual, and most of all, it was a word whispered quietly.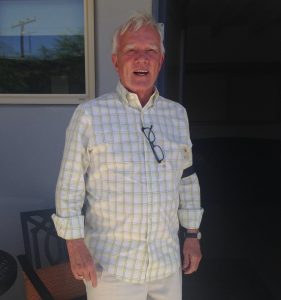 Now, closing in on 80, and diagnosed with an illness that made it impossible to live at home alone any longer, this retired educator is thankful for the leaps and bounds in civil rights that have occurred in his lifetime. And, to have found one of the first assisted living facilities in the United States that aims to provide a safe, welcoming place for older gay people to spend their days with the care they need, and, as importantly, without fear of discrimination.
Stonewall Gardens in Palm Springs was named for the landmark inn in New York that was a pivot point in the gay civil rights movement.  We got a tour from Lauren Kabakoff, who oversees the property.
The place looks like it could be a quaint spot where you might check in to spend the weekend.  In fact, the facility used to be a hotel, and Lauren's family took it over with the idea of turning it into a place just for this purpose.
As a baby boomer himself, Lauren's father was sympathetic to the idea that most seniors, like Jim Crowley, hope they never need to move into an "old age home," with all the prejudice attendant to that phrase: sterile halls, shared rooms, sub-par food.  As a businessman, the elder Kabakoff saw an opportunity.  The number of LGBTQ baby boomers is believed to be around six million, and as they begin to creep further on in years, the need for such housing is likely to be tremendous.
The property feels anything but sterile, with soaring mountain views and lovely furnishings.  The apartments are tiny, but well-appointed, and the idea of downsizing, Jim said, didn't daunt him, although he has noticed some prospects who tour the place bristle with concern.  Best of all, he says, he is free to leave the grounds as he pleases.  He sometimes Ubers into town to the local bars (after realizing he's no longer equipped to run for the bus) and enjoys the field trips coordinated by the administrators.
No couples have moved into the facility, which can house 28 people, says Lauren Kabakoff.  But she welcomes the day they do.  For now, she's happy to host this older population who feel pleased to have the company of others who remember the days, not so long ago, when civil rights weren't granted people of different sexual persuasions.
Further reading: Out and Aging: The Met Life Study of Lesbian and Gay Baby Boomers