27 Mar

Where will you grow old? Utopia for the over-55 set

Podcast: Play in new window | Download
Subscribe: Android | Email | RSS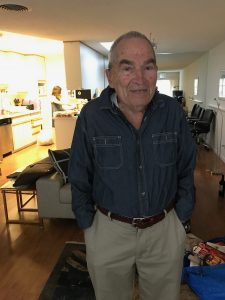 My friend, Donald Kaplan, moved to a three-bedroom patio home in the lovely, wooded Rossmoor in Walnut Creek, California over twenty years ago, at the insistence of his wife, Beverly.  They were getting older, and she wanted to inhabit space on just one floor.
She also was preparing for the fact that Donald, who was older, would likely predecease her. Having time to burrow in to this over-55 community, filled with activities and like-minded people, she wouldn't be a lonely widow.
Of course, life is what happens to you when you're making other plans.  Beverly passed away eight years ago, and now, at age 93, Donald finds himself actively engaged here: He leads classes in literature and drama, avails himself of one of three swimming pools on the grounds, and hosts enchanting dinner parties.
Rossmoor attracts educated, accomplished people who defy the stereotype you might have of languishing senior citizens who play bridge and golf.  (Not that there's anything wrong with that…) There's everything here from theaters, libraries, to a dedicated building for table tennis.  People live in their own homes, which come in a variety of sizes, but there's a restaurant where one can opt to eat.  It's a summer camp, Utopia for the over-55 set, not a nursing home but an active community.
Where do you want to grow old?  Many people in my generation, especially those of us who don't have children, and have had erratic incomes and job history, are asking that question.  Previously, we've talked to a group of four couples who built out what they winkingly referred to as their "exit strategy."  Recent news reports look at the concept of "co-housing," places where people intentionally move together to share services.  (They don't use the "dirty" outdated words: "retirement community," and they're often also super-pricey.)
(Then there's this growing concept of "aging in place."  This is a nice idea that can cause consternation for your relatives if it's not feasible to adapt your home to match your circumstances.  More on that another time.)
In this week's episode, I drove around Rossmoor with Donald, whose enthusiasm for this property that's larger than Central Park made me yearn for such a place myself.