09 May

My mother's philosophy of meatballs

Podcast: Play in new window | Download
Subscribe: Android | Email | RSS
An Italian-Irish marriage was typical in 1950s New York.  Today, such a union might inspire fusion cooking.  But over 61 years of marriage, my mother managed to keep the dishes of the family lineage separate.  Corned beef and cabbage on St. Pat's Day.  Italian food, much of the rest of the time.
A perfect, not fussy, classic lasagna is one dish my mother ultimately perfected.  (My late father loved it.)  Meatballs also became a staple food.  That seems simple to make, by comparison, until you try it.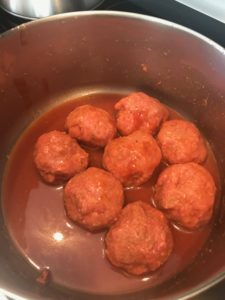 No fillers, advises my mother-that's one of the secrets:  "I don't want breakfast for dinner.  Who needs an egg in my meatball?"
But everyone who eats them wants to know the secret: Just how does she keep them from falling apart?  And what's the best way to cook them? (Hint: Baking them doesn't work.)
This week, in honor of my beloved mother and the fact that she's been cooking for a crowd since she was a little girl in Prospect Park helping her mother tend to a large brood, I'm proud to share Jane Napoli's philosophy of meatballs.  Try it home.  That is-unless you're a vegetarian.