13 Nov

"You're in a play, every day of your life:" An 85-year old legend reflects on life and art

Podcast: Play in new window | Download
Subscribe: Android | Email | RSS
The legendary dancer Carmen de Lavallade embodies the word gracefully.  She's 85, which seems unfathomable as she practically glides into the room with the spectacular posture and gleaming skin of someone far younger.  Is her endurance attributable to good genes, a lifetime of movement, of adulation and success, of an enduring love with a magnificent husband of sixty years, Geoffrey Holder?
Sitting with her on her recent visit to Los Angeles, I found it hard to get her to talk about her philosophy on her longevity. She was consumed by the place she'd come from before our meeting: Her high school, Jefferson High, and her concern for the students.
Apart from lamenting their hunched-over devotion to their cell phones and the "eye and ear garbage" they transmit, de Lavallade worries about their seeming lack of self-confidence, and the obstacles they face as minority youth in a low-income area, with little access to the vast richness of culture Los Angeles has to offer.  What they see on television doesn't help matters, she said.  There, "everybody's a big star, and everybody's making money, and it makes you feel small.  All that flaunting of wealth is terrible. it's not real."  How to counter the images in mass media and help get kids out to see art?  She mused about how that might be, at this stage, her calling.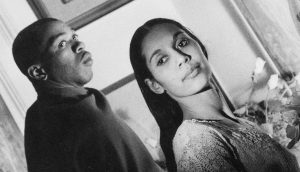 When she was a young African-American teenager, long ago, times were different, she said.  One of her school chum was a fellow named Alvin Ailey, who trekked with her across town to the dance studio of Lester Horton.  She staged plays with her friend Ronald Gaffney, two "oddballs," as she described herself and her friend, as they dazzled neighborhood kids with their productions.
Her focus and passion and talent catapulted her to a different world at an early age.  She made her film debut at age 17.  She met Holder in 1955.  Together they crafted a life filled with art.  He died in 2014.
What would she say to people in mid-life, I asked her?  We've been taught, she said, all sorts of boundaries on the creative process.  Look at Grandma Moses.  Her wisdom for older people, in the end, would be just what she told the kids: "Go find yourself, don't let anybody tell you how to dress, how to think," she said.  "You're acting every day.  You're in a play every day of your life."
(podcast to come)