19 Dec

From Brooklyn to Boynton Beach: a visit with a pioneering performer

Podcast: Play in new window | Download
Subscribe: Android | Email | RSS
We reconnected with Lynn Lavner last summer thanks to my father's late-life nostalgia.
Though he'd lived in Florida for close to thirty years, his mind had been stuck on his happiest time, the late 1970s in Brooklyn.
It had been a pretty wretched period for our beloved hometown–crime, for one, economic distress, for another–but not for him.  A small crew of people were running around various venues in the New York area, performing a musical written he'd co-written with his dear friend, Chuck Reichenthal. Hit Tunes from Flop Shows. 
One of them was Lynn Lavner, who also happened to be a teacher at Ditmas Junior High School.  She served as the show's first musical director.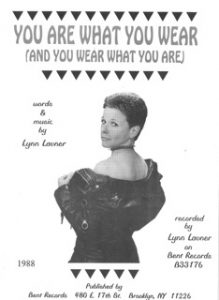 One day last August, almost immediately after I'd arrived on the redeye for a visit, my father demanded to know, out of the blue, "Where's Lynn Lavner?" He knew I loved to search for people, and we'd had a number of marathon sessions over the years where we sleuthed out names from the past–with varying success.  Hers hadn't come up before, but I remembered instantly who she was.  All of the people who'd been involved with the show were persistently present, even in their absence, in the lives of the Napoli family.
It took me about twenty seconds to find Lynn.  As luck would have it, she and her partner of 41 years, Ardis–whom my father remembered as a frequent attendee at the show, back in the day–were living about fifteen minutes away.  They'd left Brooklyn, too.
My father insisted on knowing her phone number, and punched it into the keypad on his phone without even checking to see the time.  And Lynn answered, just as if she'd been sitting around just waiting for this call from the ghost of long-ago.
Suddenly, she and Ardis were expected for lunch two days hence.
What Lynn had been up to since we'd last been in touch decades ago was remarkable.  She'd left teaching, and become a major figure on the LGBT performance circuit.  From the gay and lesbian clubs in New York, she'd gone on tour around the world as "America's most politically incorrect performer," hosting at women's festivals and other venues that were boldly being staged to rally for what then seemed unattainable: Gay civil rights.  She'd become the public voice of the crusade for gay equal rights at a critical, early time in the movement.
While my father and I each missed our hometown intensely, and the promise of that time when his show was on the brink of a major success that never quite happened, we loved reconnecting with Lynn.  Her fantastic, ground-breaking career, performing around the world in the name of equal rights in the perfect blend of funny and poignant, added an extra element of heft to the story.
This conversation with Lynn was taped in Delray Beach in October.  Sadly, my father died just a few weeks later, but I take great solace in knowing we rediscovered this woman who was important to his life, and the life of so many others.