07 Nov

Meet the students who happily live, eat and Zumba with retirees in this unique community

Podcast: Play in new window | Download
Subscribe: Android | Email | RSS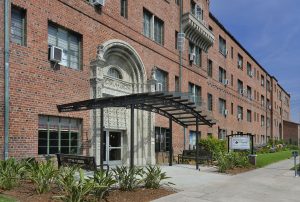 When you drive off a main thoroughfare onto Kingsley Road in a dreary part of Hollywood, you aren't quite expecting to stumble upon a four-acre, Tudor-style, magnificently landscaped wonderland of a property.  This stately gem feels like an old hotel, where you might duck in for a toddy apres-ski (if that nearby hillside that's home to the Hollywood sign ever got any snow.)  But for more than 100 years now, this property has offered a different sort of refuge.  It's home to older people in the sunset of their lives, and its looks aren't all that makes it special.
A thirty-year partnership with the Davis School of Gerontology at USC has placed students in this retirement home as residents.  Those chosen get to live here rent-free. In exchange, they dine communally at assigned tables with the elders, and otherwise lend their youthful vigor to the place.  The current crop of students is particularly diverse, and that's reflected in the activities they lead.  Sai-Raj, a trained pharmacist back in his native India teaches meditation and practices reflexology; Yuting, a doctor from China, teaches brush painting and tai chi; and Natalie, from Ohio, leads residents in Zumba classes–a special request on part of one of the residents.  She also teaches Spanish, and leads discussions over the day's headlines.
The students get much more than reduced expenses.  They're living in a real-life laboratory for their future careers.  Their affection for the residents is genuine.  "It's all about not telling seniors what they can't do but supporting what they want to do," said Natalie, who hopes to be an administrator of a place like this some day.
Some of her friends were skeptical about not only her career choice but her interest in living with people who are so much older.  They asked, she said, "Why would you want to be around old people?  Why would you want to be around death?  I explain that I'm around life."  But when her age-peers visit, she said they see what it is about Kingsley Manor that excites her so much, and are even inspired enough to come back and volunteer.
A previous graduate of the program loved living here so much she got married in the on-site chapel and named one of her children "Kingsley."  USC Davis School graduate Shaun Rushforth's long-standing devotion to the place isn't quite so radical, but he remembers the rich experience of living here as a student and getting to know the rhythm of the community in a different way than one does when you are a paid employee. Shaun returned earlier this year to serve as executive director.  When one resident grumbled at this baby-faced administrator, Shaun had a ready retort.  No, he didn't know what it was like to be in his eighties.  But, he added, he did know Kingsley Manor well, for he had lived here.